That time of the year is quickly approaching, where costs add up so that the man in the big red suit keeps his good rep with the little ones!
Life is expensive, especially when there are dependents and the latest iPhone or Android involved! And while we want to ensure you continue paying your bills as normal, sometimes that just isn't possible in order to put food on the table.
On the odd occasion you guys ask us to postpone a payment till the following pay cycle because you just can't make it that week. If it's not too often, and you are making your payments on time each week, we are more than happy to help you out every now and then. So, we've decided to let you take the lead!
Superloans have got the MySuperloans app to do it all for you! With the click of a few buttons (Buck will help you with this if you're unsure) you can skip a payment, if you need to.
How to postpone your payment
Head to your MySuperloans app. Once you have logged in using either your Facebook or Gmail account, select the 'My Loans' section. Here you will find your Express loan information as normal. If you click into your Express loan your payments will show, check out the example below for our new 'Postpone' button!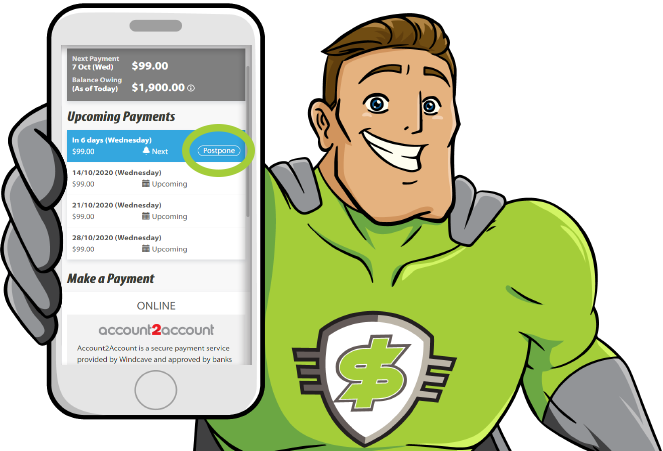 Something to bear in mind, if you do decide you need to skip a payment, you will still incur interest and there is a variation fee to do so which varies depending on your contract. In turn, this will cost you a bit more in the long run.
When you go ahead and select the postpone button as seen above, you will then be informed of the following;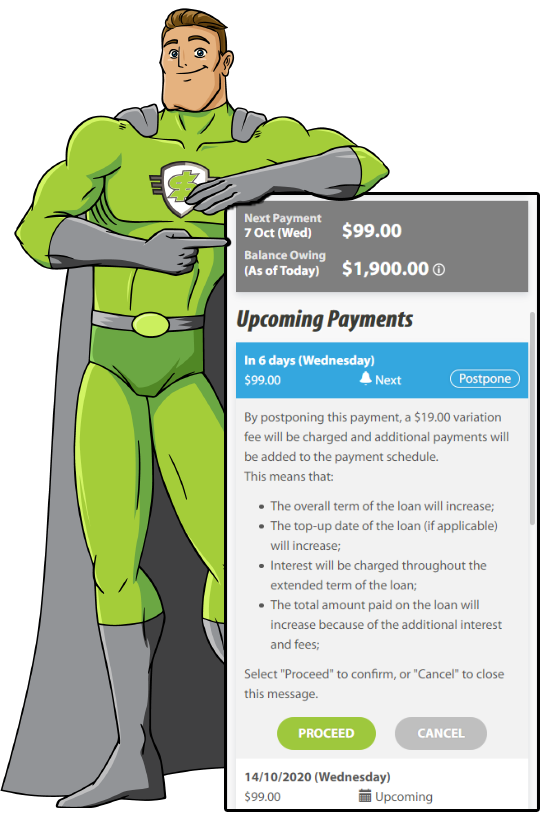 After you have read and understood the information you can either choose to proceed or cancel as shown above.
It is important to remember that your payments are also a bill so we will help you out from time to time but we need your payments to come through as agreed to prevent interest and fees being added frequently. The option to postpone payments is available to you as long as you have been meeting your previous payments.
Let us know if you have any further questions about how postponing a payment works by sending us a chat on messenger, otherwise feel free to check it out and know the option is there if you need it.